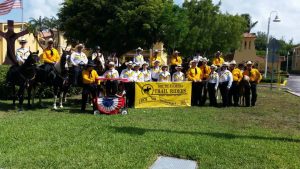 Would you like to join
the Parade Team?
Our Parade Team consists of horse enthusiasts who enjoy donning their parade uniforms, spiffing up their horses then waiving and cheering-on a crowd of adoring parade spectators! We participate in five parades per year and our Team consists of carts, riders, walkers, banner carriers, pooper scoopers, kids, adults and a driver with a clean full-sized pick-up truck. If you think you and your horse have what it takes to be loved and appreciated by thousands, please check out our site and contact us for more information as we always have positions available, even if you don't have a horse!
Please see the links below for our guidelines, directions, application and all the parade news & upcoming dates. Hope to see you there!
*******************************
View our parade memories:⇓