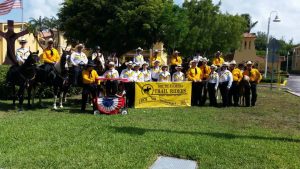 Would you like to join
the Parade Team?
Our Parade Team consists of horse enthusiasts who enjoy donning their parade uniforms, spiffing up their horses then waiving and cheering-on a crowd of adoring parade spectators! We participate in five parades per year and our Team consists of carts, riders, walkers, banner carriers, pooper scoopers, kids, adults and a driver with a clean full-sized pick-up truck. If you think you and your horse have what it takes to be loved and appreciated by thousands, please check out our site and contact us for more information as we always have positions available, even if you don't have a horse!
Please see the links below for our guidelines, directions, application and all the parade news & upcoming dates. Hope to see you there!
*******************************
The Jr Orange Bowl parade was a lot of fun and we had a great turnout. Our smiley-face breast collar decoration for the parade's theme was a hit!!! Thank you to Jessica for making the design and to Carrie for laminating them. We had a good number of riders and club members walking this year. Thank you to the FFA'ers and the juniors that were out with us – your help is greatly appreciated and your enthusiasm encourages all of us to enjoy the events! It was
also good to see new parade people there supporting the club and greatly boosting the Parade Team. Thank you all so much. A special thank you to Wayne and Carrie Hershberger for providing the food. It was delicious!!!! A big shout out to Emely Ponce's father, Juan Carlos, who took many pictures and videos. I will be getting these soon and will share them with everyone.
Our next parade and last official one for this season, is the Homestead Rodeo Parade, on Sat. Jan. 19. I hope you all will attend and we welcome anyone who wants to join to ride, lead-line, walk, roll, or drive a buggy to parade with us. Remember this is an open parade, and ALL SFTR members are welcomed and encouraged to join in the event! Parade Team members will be in full uniform, with gloves & parade tack; and all regular club members please wear a long sleeved white shirt, black pants, boots, hat/ helmet. Juniors are especially welcome, and if 18-under & mounted, must wear a helmet to participate. Full authentic cowboy attire & tack is also acceptable. We will need every flag-carrying Parade Team member for this special local event, and so we may plan & have ample refreshments, please RSVP to Bonny George, Jr. asap (305-233-1897).
The Rodeo Parade through Historic Downtown Homestead begins at 11 am, we ask that everyone to arrive & sign-in by 9:00 am. Parking is across the street from the VFW, same place we go for the Veteran's parade & the Freedom Walk – 601 NE 2nd Rd., Homestead.
I hope to see you all there!!
~Lisa Morgan
786-271-4933
01lisamorgan@gmail.com
Here is a list of the upcoming parades:
July 4th – Key Biscayne
Nov. 12th – Homestead Veterans Day
Dec. 2nd – Jr. Orange Bowl
Jan. – Homestead Rodeo
View our parade memories:⇓