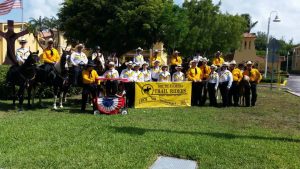 Would you like to join
the Parade Team?
Our Parade Team consists of horse enthusiasts who enjoy donning their parade uniforms, spiffing up their horses then waiving and cheering-on a crowd of adoring parade spectators! We participate in five parades per year and our Team consists of carts, riders, walkers, banner carriers, pooper scoopers, kids, adults and a driver with a clean full-sized pick-up truck. If you think you and your horse have what it takes to be loved and appreciated by thousands, please check out our site and contact us for more information as we always have positions available, even if you don't have a horse!
Please see the links below for our guidelines, directions, application and all the parade news & upcoming dates. Hope to see you there!
*******************************
Hi Parade Team Members,
Great news…your new uniform shirts & bandanas for July 4th are being made & ordered! You will be
notified as they are ready, and remember for the 4th of July parade on Key Biscayne you will also need to wear: Straw hat with glitter band (avail on site, $5) or a helmet, with a black cover please; black slacks/belt/boots. We will use the men's scarf slide for everyone – so previous parade team
men have one, but new gentlemen, juniors, and ladies will need to get one on site (price at cost,
TBA.) All juniors riding, lead-lining or sidewalking around/near the horses must wear a helmet, with a black cover please. Juniors will provide & wear a plain white long sleeved dress shirt, black slacks/belt/boots. No gloves for for anyone in this parade, due to the heat.
Tack: Anyone riding must use the complete SFTR parade team tack set. Lead-line equines may use black (or red, white or blue) halter & lead line.
We have 30 people who have indicated they will ride or walk in this parade, so a few reminders: Arrive early as parking rigs will be tight- suggest sharing a trailer or car ride!
Save your toll receipt & give it to me, for reimbursement.
This parade is ONLY for seasoned parade horses, due to the restricted parade space & proximity of the crowds. When in doubt…CALL! Carts, minis, etc may decorate in patriotic décor, and our standard large bows will be provided for the tacked horses.
We will offer water, and fried chicken & fixings after the parade. An email will be sent to everyone who has signed up for the parade team, with driving directions and times for this mid-day event. You must RSVP!
I'm looking forward to a parade team that really shows-off the SFTR, brings smiles to the cheering crowds, and promotes our club far & wide.
Thanks for all you do to make it happen!
~Lisa Morgan
786-271-4933
01lisamorgan@gmail.com
Here is a list of the upcoming parades:
July 4th – Key Biscayne
Nov. 11th – Homestead Veterans Day
Nov. – Jr. Orange Bowl
Dec. – Parade of the Elves in South Miami
Jan. – Homestead Rodeo
View our parade memories:⇓