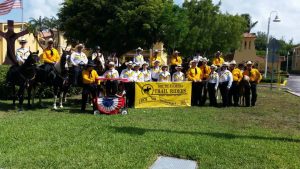 Would you like to join
the Parade Team?
Our Parade Team consists of horse enthusiasts who enjoy donning their parade uniforms, spiffing up their horses then waiving and cheering-on a crowd of adoring parade spectators! We participate in five parades per year and our Team consists of carts, riders, walkers, banner carriers, pooper scoopers, kids, adults and a driver with a clean full-sized pick-up truck. If you think you and your horse have what it takes to be loved and appreciated by thousands, please check out our site and contact us for more information as we always have positions available, even if you don't have a horse!
Please see the links below for our guidelines, directions, application and all the parade news & upcoming dates. Hope to see you there!
*******************************
Thank you all for coming to the Veterans parade – we had a great time with wonderful people. Thank you Renee for carrying the American flag and wearing your uniform. It makes me so proud of our club when we all come together like this. I want to say thank you to the 19 riders & 11 walkers who came out as club members (who I have not seen in a while due to my work) and joined us in this parade. We had 9 juniors ride or walk with us as well. Thank you all for your support!
Just was to remind everyone December is a busy parade month.
December 1st, Sunday, is the Parade of Elves in So. Miami. We meet at the American Legion (7710 SW 59 Ave.) . Trailer in at 11am, group photo at 12:45pm, ride at 1pm to the staging area on the west side of US-1 & Sunset Dr.; and the parade starts at 2pm. Parade team is in full dress uniform with gloves. The horses will be in full parade tack, and please remove any pommel or saddle bags, etc. Lead-line equines may use a black halter & lead combo, or holiday color combos. Decorations for all equines/carts will be handed out on site, and you are encouraged to bring your own too! We encourage those wanting to lead line horses & ponies , we would love to have you there and it is good training for new parading horses! All juniors 18-under must wear a helmet if riding, black cover or holiday colors preferred. Remember , this is a holiday parade, theme being Christmas, so horse/cart decorations, glitter, bells, etc. are allowed and encouraged. Refreshments/food will be served back at the trailers.
December 7th is the Christmas Tree Parade in Homestead. The TB is Megan Barnes. Trailer to the parking lot behind 338 N. Krome Ave. Be in Homestead at 5:00pm, line up is 6:00pm and parade starts at 7:00pm. You can dress you and your horse up with festive colors, decorations, glitter, bells, etc… but please remember, no Santa or Mrs. Claus, and no lights of any kind (as per Homestead parade organizers). We will lead line the horses (no riding) to take Santa & Mrs. Claus down Krome Ave to the tree. Afterward, you have a choice to leave, or stay to allow the people to get to know our horses – and of course our club! Please bring your own water/snacks in your trailer so you will be self-sufficient. This event qualifies as a make-up parade for the SFTR Parade Team, but is OPEN to all SFTR to participate, parade their equine or dress up & walk with us to enjoy the night.
December 15th, Sunday, is the Jr Orange Bowl Parade in Coral Gables!!!!! This is televised highlight event of our parade season, so everyone is in full dress uniform with gloves, and the horses in full parade tack. Again, to be neat, kindly remove any bags or extras on your saddle – thanks. The parade organizers have decided this year will be a "Holiday" theme for the parade! All equines being ridden will be in full parade team tack. All Flag Carriers will have our bow for decoration, and everyone riding behind can use holiday decorations you bring to put on their black parade team tack. Lead-line animals can have black halter/lead or a holiday colored halter/lead combo and tasteful decorations as well! We want to look sharp for TV & the crowds! All juniors 18-under must wear a helmet (black cover preferred). The parade starts at 5:00 pm , but we need to be at our trailer meeting place at 3:00pm at the latest. Remember they close the streets early in Coral Gables to prepare for the parade! We will have food and refreshments available.
Location is the same as past years: next to the old Coral Gables Elem, 105 Minorca. From Ponce de Leon Blvd go east on Majorca and follow the PE fence that goes around the school. Turn right and drive along the back of the PE field and make a right on the next road…Minorca. (You may have to move & replace a cone at the corner.)
I hope you all will come and join us to ride, lead, or walk in these parades and help us celebrate the holidays as well as the end of the year.
Any questions please contact myself, Lisa 305-271-4933, or Bonny 305-233-1897.
View our parade memories:⇓