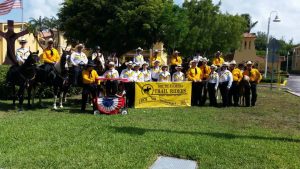 Would you like to join
the Parade Team?
Our Parade Team consists of horse enthusiasts who enjoy donning their parade uniforms, spiffing up their horses then waiving and cheering-on a crowd of adoring parade spectators! We participate in five parades per year and our Team consists of carts, riders, walkers, banner carriers, pooper scoopers, kids, adults and a driver with a clean full-sized pick-up truck. If you think you and your horse have what it takes to be loved and appreciated by thousands, please check out our site and contact us for more information as we always have positions available, even if you don't have a horse!
Please see the links below for our guidelines, directions, application and all the parade news & upcoming dates. Hope to see you there!
*******************************
Hi Parade Team Members,
The Homestead Veteran's parade is only a few weeks away, now on Mon. Nov. 12th, & I hope to see you all there. Please join me in celebrating this day with the Parade Team, and we would love to have all SFTR join in this open-parade. I would like to ask all Veterans in our club to come dressed in uniform, as I feel we should honor veterans within the club as well. Since this is a open parade, club members are invited and encouraged to come – walking, lead lining or riding. For general SFTR members joining us, please wear a long sleeved plain white shirt, black pants, hat/helmet. Parade Team members will be in full dress uniform, with black gloves. We always appreciate & need safety walkers, and of course, extra horses/ponies even if they are lead lined. Remember we do rotate the flags to be carried, so if you have a preference on a flag, let me know ahead of time. I will try to
accommodate you. Arrive 10:30am at the field across from the VFW, 601 NE 2nd Road, Homestead.
The parade starts at 12:00noon. Make sure you park with the SFTR, as we do share this field
with others. I hope to see a great SFTR turn-out!
Please recall this year the Homestead Tree Lighting Parade & Ceremony is a regular SFTR parade
event. Megan Barnes will TB this event, 6pm, Sat. Dec. 1. All SFTR Parade Team members are asked
& encouraged to attend. This is an open event and all SFTR club members should plan on joining in
the stroll and ceremony with the club, dressed in holiday attire, tack, and decorations. Let's show
Homestead the lighter side of the SFTR! Please see Megan's article in this newsletter for more info!
Sunday Dec. 2nd is the Jr. Orange Bowl parade – it's their 70th anniversary. The theme is Groovy and
the 70's. Please help me with suggestions on attire (riders/walkers/horses/ponies) for this parade, as the committee has asked for everyone to participate in dressing for this theme – email or text me your ideas please. Info on exact directions to our parking in Coral Gables will be sent soon via email, but plan on arriving before the 2pm road closures, and the parade will start at 4pm. This parade is elevised and is the highlight of our formal Parade Team festive parades, and we would appreciate a big group of riders, walkers, flag carriers, lead-line horses/ponies, and carts! I hope to see you all there. I am looking forward to a big turnout, and we'll have lots of food and drinks afterward.
SEE YOU THERE!!!!!
~Lisa Morgan
786-271-4933
01lisamorgan@gmail.com
Here is a list of the upcoming parades:
July 4th – Key Biscayne
Nov. 12th – Homestead Veterans Day
Dec. 2nd – Jr. Orange Bowl
Jan. – Homestead Rodeo
View our parade memories:⇓